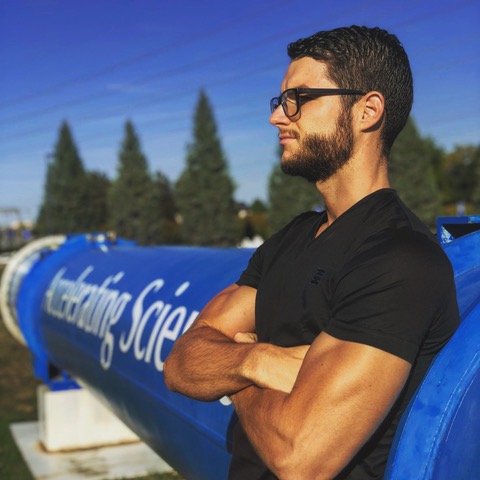 Republic of Croatia / Republika Hrvatska
Toni is a Croatian scientist who recently received a Ph.D. from both University of Ecole Polytechnique (France) and University of Split (Croatia). He worked on electron reconstruction, measurements of the Higgs boson properties in the golden channel for the CMS experiment.
Most of his free time Toni spends helping others on their fitness and science journey. If you have any questions for Toni, feel free to contact him on Instagram.
Now, let's get right to it and see what Toni has to say about CERN.
1. When you were little, what did you want to be when you grow up?
When I was a little boy I was always telling everyone I will become a ship captain and later on when I started going to school my plan was to become an architect.
2. What about CERN made you want to apply for the job?
I actually never applied for a job at CERN but my dual Ph.D. position at the University of Split and Ecole Polytechnique in Paris included working for CERN and traveling there very often. I knew very little about CERN and LHC before the last year of my Master's at the University of Split, most of which I found out from the BBC and National Geographic documentary series. I was obsessed with astrophysics and my goal was to continue on a Ph.D. in astrophysics but then in the final year of my studies I had a course called "Numerical methods in High Energy Physics" and I just fell in love with particle physics. I really liked it and was astonished by the kind of research that was being done at CERN so I asked the professor if I can do my Master's thesis with him since he was working at CERN for a very long time. He was very happy with my work and afterward I applied for a Ph.D. position to work with him and that is how I got to work at CERN.
3. Before your first visit, what did you expect CERN to be like?
I got a very clear picture of what to expect from the stories of my professor and other Ph.D. students. I expected a small village filled with experts from all over the world working on top-edge science.
4. And was it like you expected it to be?
Yes, it was more or less just what I expected thanks to the inputs from my colleagues and google. :)
5. What was it that surprised you the most when you started working at CERN?
That it is just like any other job really, in the sense that once you start you have no idea what you are doing and everything seems to be extremely complicated. But little by little with some help from your fellow scientists you learn and suddenly you are considered an expert in a certain topic. I was a bit surprised how friendly and down to earth most of the people working there are considering that they are some of the smartest people in the world, at least in my opinion.
6. At CERN, people come from all over the world. How is working in such an international environment?
I really enjoy it! Not only the fact that you meet people from all over the world but also the fact that you can learn so much about their country, culture, customs, etc…
7. When you met people from different cultural backgrounds, did you discover some surprising similarities to your own? E.g. in customs, sayings, …
Yes, that my country is not so unique as I taught so :D.
8. What is the most challenging when working at CERN?
The amount of available information and skills that you can learn every single day. You have to find a balance between improving yourself every day and still finding ways to relax and take your mind off work.
9. What do you like the most about working at CERN?
The fact that we are exploring the unknown, searching for elementary particles and answering fundamental questions about our Universe.
10. If you could change one thing about CERN, what would that be?
I would like for CERN to be more appreciated by the general public, at least in my country.
11. Any advice or something you would like to say to people coming from your country who think about applying to CERN?
Feel free to contact me at any time and I would be more than happy to help you with your application!