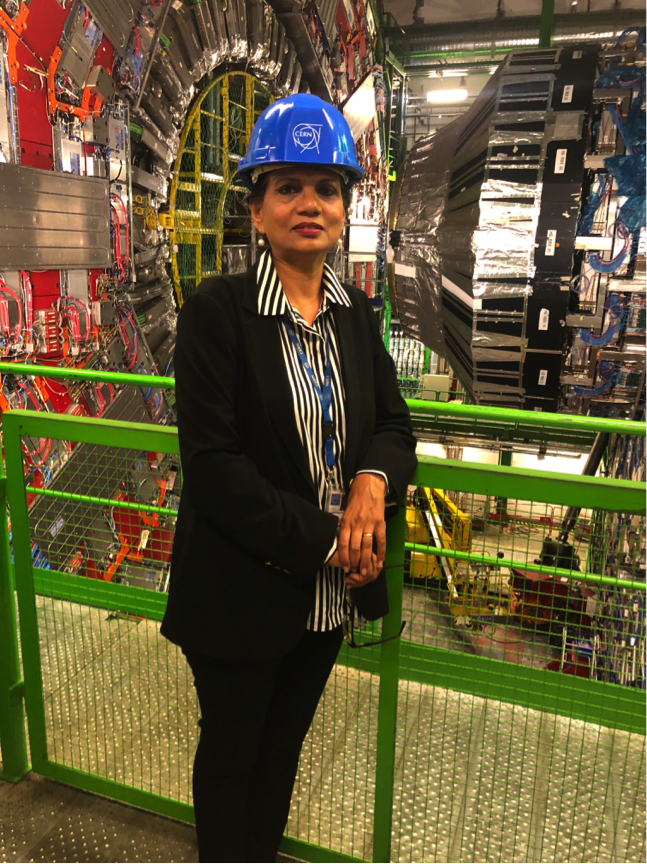 India / Bhārat
Archana Sharma is an Indian scientist with a Ph.D. in Nuclear Physics from Delhi University. She is a senior scientist at, to quote her, the Mecca of Particle Physics.
At CERN, Archana is part of the CMS experiment and has many accomplishments to her credit. She is an advisor to the spokesperson of CMS experiment, Co-chair of the CMS International committee, Science Ambassador at local schools, TEDx speaker, to name a few.
Archana is a dedicated researcher and passionate about helping and supporting STEM students worldwide, especially India. If you wish to connect with Archana, make sure to follow her on Linkedin and Twitter.
Now, let's get right to it and see what Archana has to say about her work and CERN.
1. When you were little, what did you want to be when you grow up?
I come from a middle class family in a small town Jhansi (India) and both my parents were teachers. I grew up like any other middle-class kid in India. I wanted to be a teacher, just like the very good role models in my school. The support from my parents, close family, and teachers was enormous, and encouraged by mentors. Like many others, I was passionate to do something impactful in life. I thought physics could be the means, and chose nuclear physics against electronics and solid-state physics at BHU Varanasi (India) simply due to the "outstanding" set of teachers at the physics department. Then I wanted to do research in nuclear physics: ambitions kept changing as I grew up.
2. What about CERN made you want to apply for the job?
I never thought I would end up at the Mecca of particle physics. Just like everyone else, I wanted to be a part of the world-renowned project or a similar place where I can use my ability and knowledge for fruitful outcomes. I found that CERN has one of those projects and I did not hesitate when the opportunity came. In 1987 I started to work at CERN as a summer intern for a few months and in that framework, I participated in a specialized school, after which I was fortunate to find an opportunity to spend a year at CERN. A 'job' in particle physics is a tough one with long periods of uncertainty unless you are lucky. My patience and grit made way when I was exceptionally employed by CERN in 2001 after nearly a decade of learning how to perform research and acquiring a second doctorate from the University of Geneva.
3. Before your first visit, what did you expect CERN to be like?
I had never left India before, and this was the pre-internet era. I felt as if going to another planet when I took on my first airplane journey!
4. And was it like you expected it to be?
Since I did not know what to expect, everything about CERN was very charming and impressive whether it was the experimental facilities, the food or the people.
5. What was it that surprised you the most when you started working at CERN?
The speed at which people worked, whizzing around me was most surprising. Cultures are very different and it was a first-hand experience in a highly professional environment. The learning curve was tough and steep!
6. At CERN, people come from all over the world. How is working in such an international environment?
What I learnt here was the "power of collaboration". If one has difficulties or questions, one can knock on any door, and I found this learning and facilitating environment very enriching.
7. When you met people from different cultural backgrounds, did you discover some surprising similarities to your own? E.g. in customs, sayings, …
Well it took some time, to realize that people in the end are same and the spectrum of culture, however different has quite an excursion. Of course, the greeting of "kissing on the cheek" was very awkward initially as I come from a "Namaste" greeting culture!
8. What is the most challenging when working at CERN?
One can easily be overwhelmed with the amount and speed of work and information that happens in our field. It is nearly impossible to keep track and keep oneself updated. It takes some time getting used to gathering and assimilating information.
9. What do you like the most about working at CERN?
There will always be challenges, the ease of working and being able to find solution to the most difficult issues is very encouraging. No question is a stupid question and team work is placed over and beyond personal goals.
10. If you could change one thing about CERN, what would that be?
I would say that if I had another life I would have arrived earlier at CERN, had prepared much better to learn from the opportunities. The issues are that experts are so busy, even though there are books and articles, the jargon at CERN takes a moment to embrace particularly for people who come from very different backgrounds of education, styles and exposure. I would improve the easing in process, perhaps it's a matter of personal taste.
11. Any advice or something you would like to say to people coming from your country who think about applying to CERN?
Start building your "career capital" that is your experience in the field where you want to work. The path will open up automatically if you will not stop doing everything in your power towards achieving your goals. The sky is the limit… there is no dream that can be put on hold! The only trick is that you have to be prepared for rigor … and rigor alone survives at CERN!